Sterling Silver Cubic Zirconia CZ Belcher Bar Chain Length 28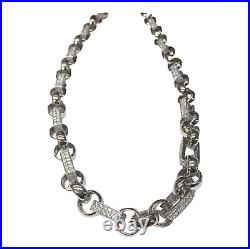 Sterling Silver 925 Belcher Bar CZ Chain SGCH47. 28- Length weight 136.4 Grams.
Alpha-Jewellery have grown to become a leading UK online jewellery retailer, sending out 1000's of orders worldwide. We specialise in 9 Carat gold and Sterling silver jewellery. We offer extensive collections of Bracelets, personalised jewellery, religious jewellery, Chains and Bangles. We also can arrange to find source other goods.
Many items within our jewellery collection can be personalised with names, dates, initials and birthstones, making perfect sentimental gifts for birthdays, anniversaries or Christmas presents. We are a small and friendly team who are ready to answer questions or give any advice you may need, please don't hesitate to get in touch.
Every piece of jewellery is carefully selected and beautifully gift wrapped. We hope that you enjoy looking at our jewellery collection, we would love for you to shop with us and recommend us to all your friends.